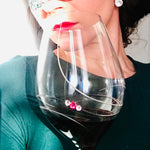 Poetry has always been a passion of mine, so much so that, for the vast majority of poems I have read, I can vividly recall exactly where I was that first magical moment that each poet's words danced across my mind and nestled subtly inside my soul. Recently, I have become more enamored with the stories created and memories recalled when engaged with craft cocktails and great wine. I have seen the poetry within these creations. Great cocktails and fine wine have a similar power as poetry; they dance across our minds and nestle in our souls, and when experienced with the elegant allure of a Julianna Glass, the poetry presents itself in the most unspeakable and unfathomable ways. 
Inspired by the Wallace Stevens classic, Thirteen Ways of Looking at a Blackbird, I invite you to join me for a journey of memories old and new, an exploration of our past and a toast to our futures. I present to you Thirteen Ways of Looking at a Glass.
I


Elegant etching
Sashays its sensuality
Over all my senses



II

 

Faintly shimmering stars

Quietly illuminate the subtle sparkle

of the bubbles in their glasses

And the beautiful brilliance in her eyes

 

III

 

With a twist…

Of fate;

Always worth celebrating

 

IV

Hues of vivacious violet and

Penetrating purple

Swirl sexily in her dress

And her glamourous glass

 

V

 

Sunlight shimmering sensations 

of serenity

Across carefree crystals

 

VI

 

Icy chips saunter delicately

Just like his pensive reflections.

 

VII

 

The snow steadily strolls

Out of the sky with no

End in sight

The subtle pop of

Another bottle opening

 

VIII

 

Glasses raised high

Clinked in unity

As they become one

Forever.

 

IX

 

The first kiss with

A beautiful Bordeaux

Reminds them both

Of that first kiss

So many years ago

 

 

X

 

She likes it

When it's neat.

He likes it

dirty.

Yet

They both find happiness

In a Julianna glass

 

XI

 

Sun-drenched patio

With relentlessly rolling fields

of glorious grapes.

Sonoma's seductive salaciousness

Swirls for seemingly endless hours.

MacRostie feels like home.

 

XII

 

Carefully caressing

The delightful decadence

Of the glorious glass.

Memories overcome his

Soul.

 

XIII

 

Solitude.

His thoughts subtly stir

More passionately

Than his wine.
By Christopher Bronke  (mixologist and happy customer of Julianna Glass)