Wine is a lifestyle and wine drinking is about experience. We believe a wine glass should enhance the flavours of wine, elevate the sensory experience and become your unique accessory that you hold while having conversations. Because a wine glass is more than just a cup... it's your moment of enjoyment. 
ELEGANCE IN EVERY DETAIL
Take your wine tasting to a new level and experience the pleasure of drinking wine from a gorgeous handcrafted glass with Swarovski crystals.
EXPERT CRAFTSMANSHIP
It takes many hours of handmade work by glass masters and a lot of love and passion to master the skills before each individual piece of Julianna Glass is finished. All glasses are precisely hand-cut and crystal stones are hand applied one by one to complete the designs.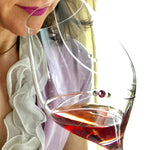 IT'S ABOUT TEXTURE AND BRILLIANCE
Run your fingers through engraved lines and feel the depth of the glass. Like a precious jewel, Julianna Glass embodies the sophistication of traditional craftsmanship and modern designing. Sparkly crystals lightly frost the glass and gracefully elevate its luxurious look and feel. 
Exquisite Glassware! I've purchased Julianna Glassware several times over the years. I now purchase the glasses as gifts for cherished friends. The glasses are beautifully & exceptionally crafted. Their elegance enhances the experience of sipping wine (or brandy or scotch).

- Julie M.

Beautiful! Love the lightweight and elegant design of the glasses. They are sophisticated and have so much class!

- Michelle S.

"I've used the Pink Ribbon every day since it arrived and I never use the same glass 2 days in a row! Not sure if it's my imagination but I think the wine tastes better as a result!! You might have accidentally shipped me your magic glass."

- Sandra M.

"I am thrilled to start mine wine in my new Julianna Glass! Such beautiful glasses! My daughter has already requested her own set!."

- Rebecca P.

"My glasses arrived today. Absolutely gorgeous!"

- Jay R.

"Simply stunning. In ways only Julianna Glass can be. It's poetry on a glass. Elegance personified."

- Chris B.

"If you're even slightly on the fence, hop OFF and buy Julianna glasses. They are AMAZINGLY well done, so beautiful and hey... you DESERVE it!"

- Samantha T.

"Your designs are so pure they inspire. And turn every sip of wine from a Julianna Glass into a total relationship of all the senses. An experience to be enjoyed and savoured."

- David F.

"Outstanding.... they are perfectly balanced.... just the right weight & the very slender stems accent the bowl and make it the show piece of the glass. The etching is exquisite and the Swarovski gems always add that touch that tells me this is "Julianna Glassware" very special glass. "

- James Ch.